Comfort cooling, Infrastructure Cooling and Power Rental Services and Solution.
Management of facilities, in any work discipline whatsoever, is an essential task. When we say facilities, we refer to all tangible assets within the organization, including the building structure. Any facility being built, installed or established and operational to serve the core business functions needs continuous monitoring, maintenance, and backup services for its reliable operation. Though their need may vary from place to place or industry to industry, the few basics apply to each kind; this includes the need for cooling and Power.
How Shah Engineering Can Assist in Facility Management
We assist and support with the implementation of solutions for comfort cooling, bridge cooling, test & trial, temporary bridge power through our cooling and power rental services. The idea and intention are to extend support to your facility management services by providing world-class rental equipment or solution for continuous adequate cooling and continuous power supply for your infrastructure and applications.
We are an ISO 9001 certified cooling and power rental service providers. Once we attain the same frequency as per your needs and demands, we have a product line of quality assortments like- Air-cooled and Water-cooled Chillers, air conditioners, air handlers, heat exchangers, power generator, and more. We follow the simple cycle.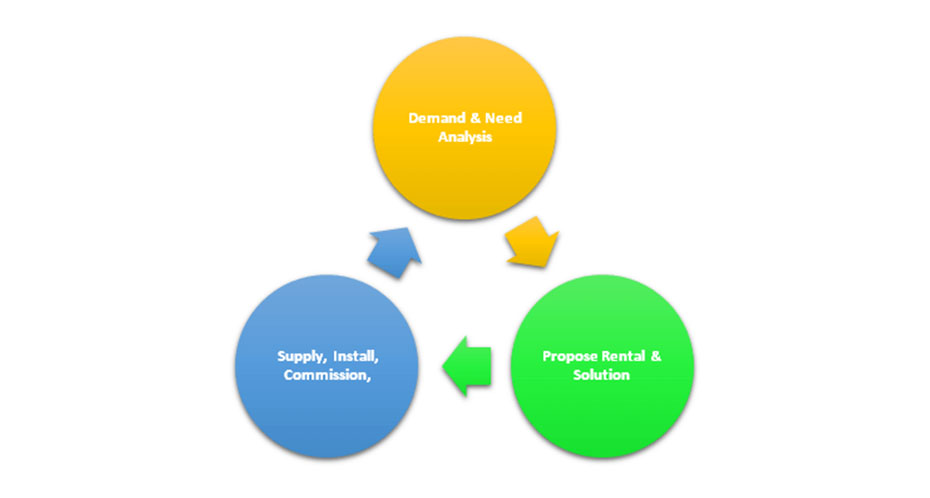 At each phase of the product installation to explanation about its working, our team of specialists will use their expert and practical experience to guide you at every step. We propose hassle-free air handler and cooling device rentals within the best budget for better utilization of your resources. We are committed to provide best of power and cooling rental services and solutions for any future demands.